Saint Hierarch Joseph the New of Partoș – The Protector of the Romanian Firefighters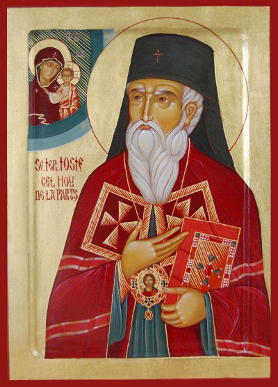 Every year, on September 13th, the Romanian firefighters celebrate The Firefighter's Day, commemorating The Battle of Dealul Spirii when the Company of Firefighters in Bucharest, led by the brave capitain Pavel Zăgănescu heroically confronted the numerous Ottoman army coming to choke the revolutionary movement of 1848. Two days later, on September 15th, the firefighters celebrate the man whom they chose to be their protector and saviour – Saint Hierarch Joseph the New of Partoș, sainted by the Orthodox Romanian Church in 1956, and with his holy relics kept in the Metropolitan Cathedral of Timișoara.
The bond between this wonderful Saint and the firefighters is given by his wonders and actions, among which the rescuing of the city of Timișoara, in a time when he was the metropolitan of Banat, from the flames which were threatening to destroy the whole settlement. In the autumn of 1653, there was a high amount of looting and destruction in the fortress of Timișoara by the Turks who set fire to the city. The western side of the fortress was surrounded by a horrifying fire that was burning the houses and was threatening to spread all over the city. In that moment, bishop Joseph, though of an old age (he was over 80), did not run, but covered only by his undying faith in God, courageously came out in front of the church holding the liturgies for special occasions and praying with tears, was listened by God who sent a blessed rain upon the fire, thus saving the people and the settlement from a great danger.
In short, on the life of Saint Joseph the New of Partoș
Saint Hierarch Joseph the New was born in 1568, in Raguza, Dalmatia (today's Dubrovnik), of Valacchian origin. His father was the owner of a boat which shipped goods on the Mediterranean and the Black Sea. After his death, young Jacob, after his Christian name, the future hierarch was raised by his mother who passed him the love of God. That is why, at the age of 15, he joined the Holy Mother monastery of Ohrida, which he was to leave at 20 to go to Holy Mount Athos, where he joined Pantocrator monastery. Here he became monk and was named Joseph. In 1650, in July, although 82 of age, the Right Joseph was ordained bishop and appointed the Metropolitan of Banat. He remained as such for three years. In the old documents there was mentioned that "everywhere he had set foot, he cured disabilities, life was renewing, faith was strengthened, hope got higher." In 1653, he moved back to the holy monastery of Partoș, not far from the fortress of Timișoara, and, three years later he passed away and buried in the monastery's church. They say that "at the moment of his passing away, the monastery's bells started tolling by themselves." The metropolitan's body was placed in a grave walled in the nave of the church, by the entrance door. His relics were later moved, with great cortege, to the Metropolitan Cathedral of Timișoara in 1956, three centuries after his death. Upon the request of the Military Firefighters Body and, taking into account his wonders and deeds, the Holy Synod of the Orthodox Romanian Church gave its blessing, in 1997, that Saint Hierach Joseph the New of Partoș be named the spiritual patron of the Romanian firefighters "to bring spiritual sunshine and outflow of God's beneficial protection upon Romanian firefighters so that their actions should be for the good of Romanian citizens."