A Year After the Tragedy at "Colectiv", the Firefighters in Restructuring: Commanded by a Gendarme and Equipped with Mobile Morgues
Sat, 29 Oct 2016
București, Romania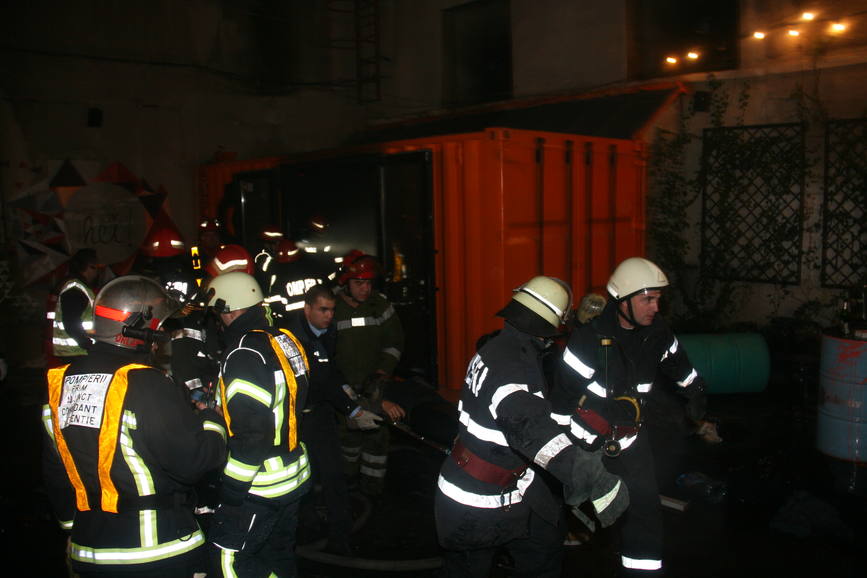 A year has passed since the tragic event at "Colectiv" Club. May God forgive those who had passed away and give health to those who survived, solace and comfort to the mourning families. A year since the tragedy that shattered Romania. A year since the event that highlighted so many vulnerabilities and unlawfulness.
Right after "Colectiv", Romania was boiling. A Government fell, a new one took its place...a technocrat one. The fire at "Colectiv" had started an avalanche that has not stopped. Unfortunately, its effects were not exactly what expected. Lots of people lost their positions, chaotically and sometimes unjustly. Even the General Inspectorate for Emergency Situations had started to look like a Titanic from which some were being thrown so that others could keep their jobs. As, from that sad night on, some "bright" heads considered that the institution needed deep restructuring, we think that it's high time for a retrospective.
By referring to memories and browsing old newspapers, we notice that, on that night, at the "Colectiv" was NO ONE from the high command of the General Inspectorate for Emergency Situations. The old general inspector, colonel Nicolae Cornea was on leave, at home, in Vâlcea. The commanding officer was the first deputy of IGSU, colonel Marian Daniel Dragne who, was nowhere to be found?!?! For that matter, in the video footage only Raed Arafat and Gabriel Oprea could be seen.
As expected, after "Colectiv", the media exploded. A lot of articles and coverages were issued, people were asking for blood. Still, the great absentees were not the ones who lost their positions, but Șchiopu, Guță and Aldoiu, after a few weeks, - the three officers in command of ISU București-Ilfov, all three of them being present at the intervention. Lieutenant colonel Șchiopu was on his free time - had already started his leave as of that day. Then followed the humiliating reaction of the Prime Minister, and the putting in readiness based on some illegal decrees, since they had not seen a fax note including the word "Colectiv", among other hundreds of papers arriving daily at an Inspectorate. Șchiopu was the only one rehabilitated by the Court back to his previous position in ISU București-Ilfov, and the only one who resorted to justice to claim his honor.
What followed ? Inspections after inspections. The Prime Minister's Inspectorate verified again and again the Firefighters' Army, respectively the intervention at "Colectiv". The followed the decision: the firefighters must be restructured. A year after "Colectiv" we find ourselves in full restructuring of the Romanian military firefighters.
Here are some of the changes brought by this technocrat-like reorganization:
The firefighters are under the command of a gendarme.
A high percentage of the county inspectorates for emergency situations have in command chief-inspectors, first deputies or deputies - all commissioned. They hold their positions after the retirement of their predecessors. Certainly, the present law regarding the military pensions has offered a better alternative for the officers in question, rather than them being caught into a hopeless fight with a system ground by scarcities and complaints.
The 24/48 hours schedule continues despite its proved inefficiency.
The firefighters have been equipped with three mobile morgues, with a total value of over 1 million euros. Mobile morgues which imply activities that should not by commanded by the General Inspectorate for Emergency Situations. We wonder how many SMURD ambulances were purchased after "Colectiv", since, even in the absence of a major emergency situations, the medical and first aid system is already overstrained in Bucharest ?
Lots of people are hired from external sources by taking into account criteria of competence that allow the employment, for instance, of a Faculty of Sports graduate for the position of vice chief of County Operational Center - a job that requires skills of coordination of the interventions.
The firefighters are to be equipped with a number of crates, with a total worth of almost 50 million euros...
An extended drill of rescue in case of earthquakes has already taken place and there are dreaded rumors of a following second one.
The organization chart of the General Inspectorate for Emergency Situations has been enriched with new departments and services with their pertaining positions.
We leave it to you, our readers, to judge whether this reorganization in full progress is of good omen, if it can bring more efficiency in case of a new tragedy, or not. One thing is sure, at "Colectiv", the heavy duty was carried out by those without positions of command!