A New "Oversight" by the Minister: The Investiture of General Iamandi
Sun, 04 Feb 2018
București, Romania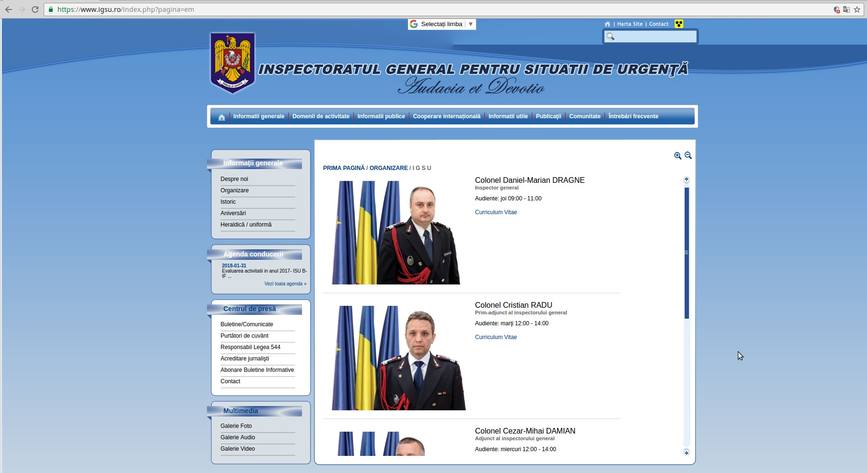 Although the replacement of the IGSU leadership was publicly announced as of January 26 2018, the day of February 4th 2018, the day when general Dan Paul Iamandi was supposed to replace colonel Daniel Marian Dragne from the command of the firefighters, was a quiet day.
No press conference on the issue of the investiture of general Iamandi had been announced, no press release was sent regarding this change carefully prepared by Minister Carmen Dan. Is it possible that the distinguished lady could have forgotten about the investiture of her favorite?
Moreover, on the IGSU site, colonel Dragne and his secondaries are still in command of the firefighters. Who is commanding the firefighters, esteemed lady Minister? If today an oil drill should burst into flames, or God forbid, an earthquake should hit, who is the inspector general who coordinates the teams?
In the Official Journal, general Dan Paul Iamandi is the newly appointed inspector general as of February 4th 2018. Still, up to this time, (19.00), the Ministry has not yet announced the official date of the investiture of the new inspector general. When one respects a person, a military, a general, the commander of the Service, one should invest that person on time, be it on Sunday. The rest-day is no excuse. After all, it is a about a general, the commander of the Service which has the highest regard from the citizens.
That is, if a politician does not consider both the general and the firefighters as insignificant details on a minister's agenda. A new "oversight" of Minister Carmen Dan: the investiture of general Iamandi. Since Moftinu, it has become general knowledge. When her under-officers replace the SPP (Protection and Guard Service) with the Gendarmerie, we should all be grateful that she did not appoint a Gendarmerie general to the firefighting command.