Firefighters on Alert: 1482 acres of Land Under Waters, in Salonta Area
Sat, 04 Jul 2015
Bihor, Romania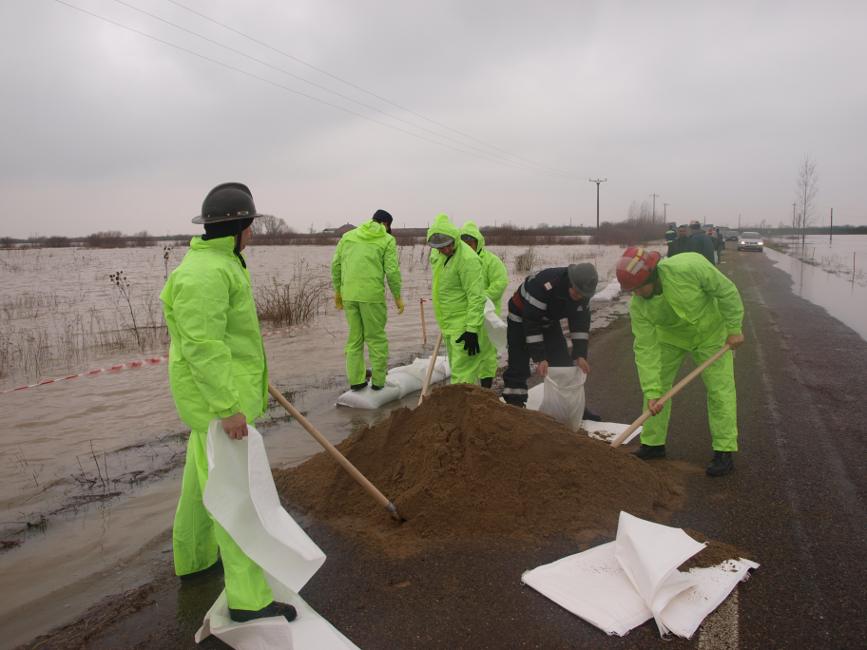 The military firefighters of Salonta Squad were on duty these days. The dangerous meteo phenomena which developed in Bihor county triggered the flooding of two county roads, the firefighter's intervention being necessary to raise, with sand sacks, improvised dams which should prevent the water to reach the road.
At the early hours of the morning of Thursday, April 4th, the teams of Salonta Firefighters Squad intervened in the town for the removal of the water from a house located on Ceaikovski Street. Later, the teams were requested in the commune of Tulca where more than 1482 acres of land, of which 1235 acres of arable land, had got under water. The militaries set up two improvised dams of sand sacks on a strip of almost 200 m of the county road 795 which was about to get flooded. This roas links two municipalities in Bihor county, Salonta and Beiuș. The mission was supervised by lt. col. Marius Smolinschi – commander of Salonta 3rd Intervention Squad and by lt. Călin Vancea – assistant to commander of Salonta Squad. Together with them worked the members of the Voluntary Aid for Emergency Situations of Tulca commune.
Several hours later, the same military firefighters were requested to raise two other dams of sand sacks covering a strip of approximately 120 m, on the county road 797A which connects the villages of Homorog and Ianoșda to DN79. Despite the chilly wind and the periods of cold rain, the firefighters did not give up. Under the command of lt. col. Smolinschi and in collaboration with SVSU Mădăras, the militaries worked till midnight, managing to bring the mission to a successful end and maintainig the use of the road in question. On the scene were also lt. col. Sorin Mihai Caba accompanied by the head of Civil Protection Department – lt. col. Viorel Hodișan.
We should also note that, under these circumstances, just as they have been expected, the firefighters placed the good and safety of the people above their own. Most of them came to be of help on their free time, thus proving one more time, that they work for the people in need.
As a result of abundent rain over the last few days, there were affected 1764 ha of arable land, 405 ha of grass land, and five ha of forest in Tulca, Căuaşd, Cefa, Inand, Homorog, Ianoşda, Mădăraş, Marţihaz, Salonta, Sălard and Şoimi, some parts of the commune roads of Șoimi (DC 208, DC 209, DC 230), as well as County Road 108 H, section Voivozi-Pădurea Neagră, on a sector of 120 m.
Photo Gallery