Who Is Trying to Silence the Romanian Firefighters? Under-officers Threatened Over Posts on Facebook!
Thu, 16 Feb 2017
Bihor, Romania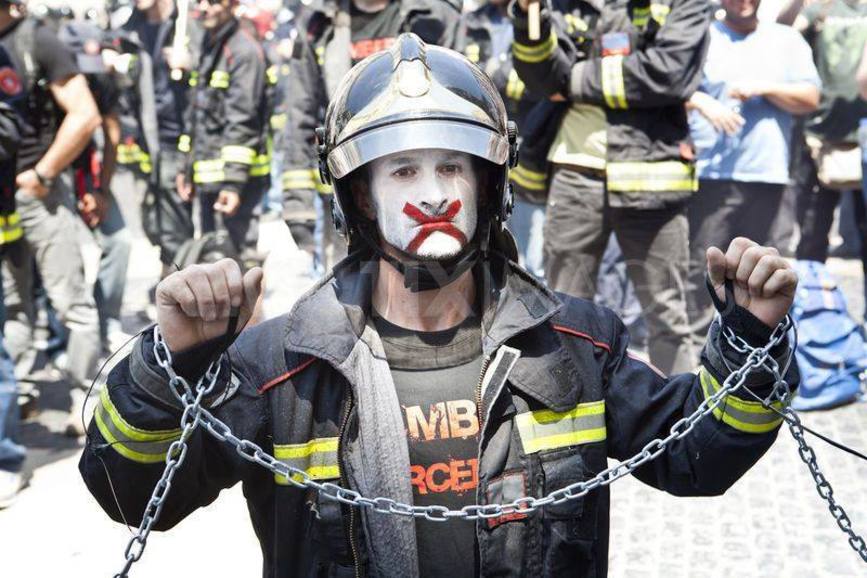 Many and various are the discontents of the military firefighters, but it seems that no-one is willing to hear them out. The 24/48-hour schedule triggered, right from its launch in 2015, numerous complaints which were not liked by its authors. The techniques of complaint suppression have been various, from soft-soaping to call for acceptance and even policies of threat and bullying. Months after months, the firefighters were closely monitored and each and every statement against the particular schedule, expressed even on the most obscure blog, was analyzed and punished.
Like it or not, a three-week crash course makes one able to insert an IV
The extension of the schedule over the period between 2017 and 2018, has triggered a new wave of discontent. Much weaker though. The previous policy of stopping their mouth seems to have paid off. To the discontents regarding the schedule one might also add those related to the poor quality equipment, unpaid extra time, lack of life and health insurance, and, last but not least, those regarding that the firefighters should take the second Smurd module. It is that module that teaches the military firefighters how to insert an IV or intubate a patient.
The course takes three weeks, out of which one and a half week of theory and then the practical part, which should take place at the Emergency Rooms. And this is how, after one and a half week of practice (where they can practice a minimum of 30 IVs), the firefighters get to take an exam, after which, once they pass it, are considered able to insert an IV.
It is quite true that there are numerous firefighters who like these medical procedures and who come on their own free time to attend these courses, in order to complete their education and learn by experience, but it also true that there are also among them those who would not want to act as trained nurses after three years of med school.
How is it possible that in Romania, after a three-week crash course, one could acquire the same experience as that of a trained nurse ? That remains a mistery that only those who concocted this module could solve. We know that in countries much more civilized than ours, such as Ireland, the IV is inserted only by a DOCTOR. Can three weeks be enough ? Can they be the equal of three years of med school ? If one wants to artificially grow the importance of an emergency situation system, sure he can. They can do anything. From setting an infernal work tempo, to forcing the people to learn how to insert an IV. Especially if those people are military and have no right to protest.
Two under-officers from ISU Neamț, impeachable for daring to "publicly" express their discontent
At the same time with the complaints whispered in the corners, the policy of terror, threats and bullying against those who dared not to accept what others decided for them, has been reactivated, for the benefit of Smurd. Off the record, reliable sources confirm that at ISU Neamț, two under-officers are being "scrutinized" for daring to share on Facebook "denigratory" posts on the matter of lack of life insurances or posts which doubted the efficiency of a three-week crash course on how to insert an IV.
The respective posts were seen as an insult to His Excellency Dr. Raed Arafat, reason for which the oppressive procedure was launched against the two disgraced under-officers. Acting subserviently, the commanding officers of the two under-officers, from Bucharest to Neamț, seemed to forget that they were wearing a military uniform, that their duty, according to the Military Personnel Bylaw, was firstly to listen and protect the people they commanded. Instead, they launched themselves against the two "disrespectful" firefighters who had dared to smear the good image of Dr. Arafat.
It is highly likely that the two are to be sacrificed in order to scare the remaining disobedient from the country. By doing so, the estimed gentlemen in command of IGSU and DSU hope that they can silence the people whose main guilt is that they are military and can think.
Military duty - has "obedience" become your name ?
For now, we won't go deep into legislation, not this time. Anyway, there were cases when the Court proved that IGSU does not care about the law. The freedom of speech is guaranteed by the Constitution. We all know the part that says Facebook is considered public area and the complaints of the firefighters should not have been made public here, BUT: has anyone asked themselves that those people could not stand it anymore and decided to go public by use of Facebook, since their opinions were not taken into account and their needs were not met ? Can anyone FORCE a person to carry a difficult medical procedure if that particular person DOES NOT WANT TO RISK THE LIFE OF A HUMAN BEING ?
Does one offend the military duty when, out of vanity, one pretends to be saving life by performing risky medical procedures for which a person does not have enough experience, or when somebody has the courage to express their unwillingness to risk other people's life ?
As regards the commanders of the firefighters, from county and national level, since they don't seem to have better things to do than to monitor what master sergeant X or Y posted on Facebook, we pitty out poor country and what has become of it. And if the respective master sergeant X or Y expressed their discontent regarding Dr. Arafat's system, instead of having an open and constructive dialogue, why not try to silence them instead ?
Does the Ministry of the Interior hear that ?
We all witnessed the diaphane ministress of the Interior in various circumstances with the firefighters. A distinguished presence, about whom, at least for the time being, we can say that loves and respects the firefighters. Perhaps she should one day ask herself why is it that there are so many complaints among these people devoted to their country and fellow citizens. Maybe she will have the patience to assess their work schedule, their complaints, but also the reasons for which their dissatisfaction is so promptly silenced. Maybe she will try to listen to the opinion of the little people, covered in smoke and tired, and not only the opinion of the superior officers. We remind her that a former prime-minister, based on information provided by the same superior officers, publicly humiliated a military firefighter who had served his country for more than twenty years, a perfect professional, and who has been recently reinstated by the Court.