20 Days Under Fire, 20 Days of Critics, A SUCCESSFUL INTERVENTION!
Sat, 06 Jan 2018
Satu Mare, Romania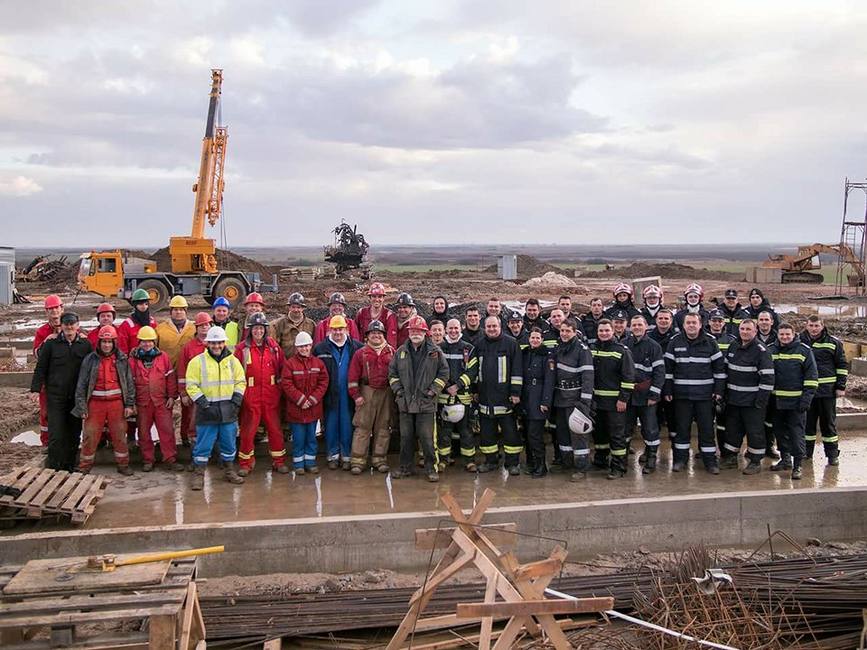 At Moftinu Mare, today, Saturday, January 6th 2018, the fire monster has been put out by the Romanian firefighters. Not by chance, maybe, on the day of our Lord's Baptism, the intervention at Moftinu Mare was concluded. Tired, but with the satisfaction of an accomplished mission, the military firefighters retreated, leaving the tamed monster to the hands of the "chiefs".
The brave men headed to their homes where, with arms wide opened, their families and colleagues were waiting. They are returning in full glory, with no fanfare, but pleased that, after twenty days of fire, they were victorious on the incandescent front, perhaps the greatest victory in their entire career. It does not matter that they spent Christmas in the field or New Year's Eve away from the loved ones, they stuck together and won.
Twenty days of fire, 3.5 km of water supply facility, tens of firefighters, hundreds of decibels, thousands of liters of water, tens of fire trucks, fear, courage, ambition...too many critics. Those were the hash tags describing the intervention to extinguish the fire at Moftinu oil drill.
Twenty days in which these people tried daily to find solutions to put out a huge and dangerous fire. I remember the talk I had with one of the boys, when they first saw the monster, they had a wrench, but, in time, they managed to get used to it. At their first contact with the deafening noise and the scorching flame, one might ask himself if he'll ever get to hold his child in his arms again or see his mother, sister or the girlfriend. Twenty days of hard work, every single day, although to some it all looked as though the firefighters were just standing there and watching the fire. Twenty days in which some were bad mouthing the firefighters, calling them incompetent and claiming that they were a shame to the Service. Twenty days in which, while some were trying to put out the fire behind computer screens, with their mouths full of holiday season food, those men were barely eating while trying to literally built, brick by brick, the intervention platform and its strategy.
I was personally beside them, on the incandescent front at Moftinu. And I don't regret it. I saw them with my own eyes, working hard, covered in mud, in moist and a deafening noise. I saw the battle plan shaping up from one day to another. I witnessed them being brave, yet cautious, worried, but trusting their skills and God. And I saw them being friends with their commander, colonel Daniel Dragne, whom they felt close as if he was not even their boss, but a comrade.
Twenty days of fire for them were, in fact, twenty days of harsh critics for those with a rested mind. Many a times, the target of those critics was inspector general colonel Marian Daniel Dragne. Probably, those who cast mud were never truly real soldiers themselves and did not know that fire could only be put out by a team. That one cannot call Dragne an incompetent without insulting the team that worked with him, and also the tens of firefighters from the Inspectorates of Bihor, Sălaj, Maramureș, Satu Mare, Timiș, Bistrița Năsăud, Mureș, Cluj, who carried out the commands. Some considered that the Firefighters' Journal was resounding Dragne's praise. His greatest achievement is that he led and accomplished this mission to its successful end. No doubt about it. He coordinated the team in such a way that the intervention ended with no casualties and no losses. One can only accomplish that by working shoulder to shoulder along the small ones, for they are the engine of an intervention. And they told us repeatedly that they felt him close to them.
With this we wish to assure the sticklers that the Firefighters' Journal shall remain objective and stick to the purpose for which it was mainly created - to be close to the fighters in the first line of duty. We promise that, if inspector general Daniel Marian Dragne shall ever commit a mistake, we shall be the first to journalistically charge him. As for now, we only wish to mark the moment of a rare, difficult, but successful intervention, due to the joint efforts of so many soldiers. It is an intervention which will remain in the history of the firefighters, obviously with its commander, colonel Dragne.
The fire monster was put out. Respect to the firefighters! Respect to you, wonderful and devoted people!
As for Dragne...bite his head off, gentlemen! His fault was that he spent his winter holidays in the field and coordinated the mission, so he probably "deserves" it!